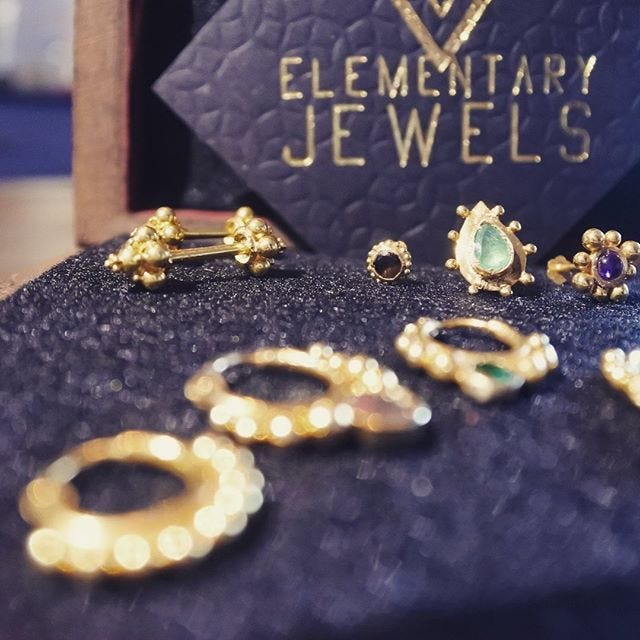 No Excuses: love yourself.
Fine and unique Jewellery, made of solid and pure Gold natural Gems and Diamonds...
A real gem stone does not cost the world, but it has character, inclusions and life. These small imperfections are the proof the world is still spinning and our roots are still natural and organic. Feel Your ground and experience a bit of Awe for life!
Looking for my products? You'll find them all right here in my online store. Come and browse my range, check out my new additions, and learn more about what's in store!
About Me
Growing up between tarot cards, VW buses and rock festivals, I was always on the lookout for the hardest school of life. Whether surfing on Nepalese landslides, beach hopping with Australian kangaroos or road rallies with Indian cows, there was only one constant: my enthusiasm for illustration and body art.

After completing two apprenticeships, two courses of study and countless temporary jobs in the design field, 7 years abroad and 4 filled passports, I decided to move back home to Germany in 2019.

These days you can meet me on the road in Europe and traveling the world. India is still the home of my soul and I am bouncing back and forth. That means if I'm not diving through the Mariana Trench in search of the sourest sea cucumber ... or fighting an illegal boxing match in Bangkok for the Jackpot of € 2.36 ... or testing the newest bumper dumper with 20 km/h on Bihari Highways.
My Mission

In 2019 I started Elementary Jewels out love for gold and natural gem stones on one hand, on just plain coincidence on the other.

In 2012 I started making my own brass Septum nose ring in a very Indian inspired design as I did not find any jewellery I liked. A bit later I made the same piece in solid gold so the jewellery would not tarnish or discolor like the brass did. Soon I have made some amazing nose studs and ear rings in gold and was creating my own ear plugs with exchangable gem stones and designs.

I never thought about others having the same problem. On the Goan Bazaar´s many people asked me wether they could buy the jewellery I was wearing somewhere on the market. Living in Goa that time, the monsoon is long and lonely.

As a tattooer there is very little work and you end up letting creativity flow. In the starting I spent the rainy season teaching myself some gold smithing and drawing out ideas.
With growing demand, I realised its potential and started working with some local jeweller on my ideas ideas. It did not take long before I found approval from friends and family and later on an e-commerce website. I am proud to be making the next step with my very own Online Shop and will be providing You with my best and hand selected pieces.

Every Elementary Jewel is handmade, with hours of developing the right size, shape and generic threading for the perfect fit, look and handling.
Visit my Gallery to get a feel for the style that my clients love. If you don't see what you're looking for, get in touch and I'll be happy to help.